Welcome to Hampton Bowling Club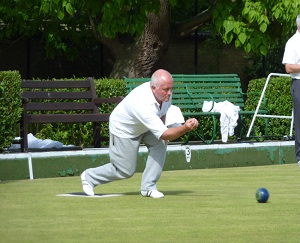 Bowls action at Hampton Bowling Club
Hampton Bowling Club is a friendly and easygoing club located in Carlisle Park, on Wensleydale Road, Hampton. We are a long established lawn green bowling club and welcome new members of all ages. We play in the Summer season and have regular fixtures, a recently refurbished clubhouse, and a long standing tradition.
In 2011, we were fortunate enough to be able to complete a much needed full refurbishment of our venerable old clubhouse. This work was generously funded by the local council and will help to ensure that our facilities stay up to date for many years to come.
We welcome new members - information on membership can be found on the Membership page of this site.
Committee members for the 2019 season have recently been elected at the AGM:-
President:- Pat Busby
Chairman:- Chris Nelhams

Secretary:- Hugh Howell
Treasurer:- Maureen Keown
Club Captain:- Kevin Keown
Vice Captain (Men):- Bill Rush
Vice Captains (Ladies):- Patricia Cavanagh
Fixtures/Competitions Secretary:- Algernon Alexander
Catering Secretary:- Patricia Cavanagh
Delegates:- Kevin Keown (Richmond & Barnes)
Auditors:- Richard Duke and Colin Hipkin
Our address is: Carlisle Park, Wensleydale Road, Hampton, TW12 2LY
The new clubhouse in March 2011